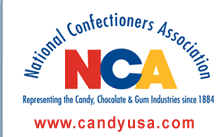 Professional associations can be a great source of free information when you're doing business research. And nearly every industry or occupation you can think of has an association. Today we're taking a look at the National Confectioners Association.  See? Business research is fun! Candy is serious business and on the NCA's site you can find out all kinds of information including retails sales figures, seasonal sales figures and annual reports from the industry. While some information is only available to association members, several of the summaries are free, as are the annual NCA Confectionery Industry Reviews back to 2002. Here are just a few of the facts I found freely available on their site:
In 2009, Confectionery sales were $29.3 billion with chocolate candy representing about 58% of this total at $16.9 billion.
Cocoa prices are at an historic high--one ton of cocoa will cost you around $3500; up from $1500 in 2005.
The average U.S. consumer spent $93 on confectionery products in 2008.
Halloween leads all other holidays in candy sales--over $2 billion spent annually.
When eating candy canes, boys were almost twice as likely to crunch their candy canes than girls (31 percent v. 17 percent).
More than 150 million chocolate Santas will be made for the winter holiday season.
They also have the Confectioner and  Snack Source Book where you'll find resources for candy, packaging, services and ingredients.  Looking for a specific candy? Try the Online Candy Catalog. Sadly, still no Kinder Surprise available in the U.S.
In addition to all this great information, they've also got a recipe page.
Know about an association that's been helpful to you? Tell us about it in the comments.
Hershey's S'More Cookie Bars
Author: Hershey's
S'More Cookie Bars Ingredients: 1/2 cup (1 stick) butter or margarine, softened 3/4 cup sugar 1 egg 1 teaspoon vanilla extract 1-1/3 cups all-purpose flour 3/4 cup graham cracker crumbs 1 teaspoon baking powder 1/4 teaspoon salt 4 (1.55 oz. each) HERSHEY'S Milk Chocolate Bars 1 cup marshmallow creme
Instructions: 1. Heat oven to 350°F. Grease 8-inch square baking pan.
2. Beat butter and sugar in large bowl until light and fluffy. Add egg and vanilla; beat well. Stir together flour, graham cracker crumbs, baking powder and salt; add to butter mixture, beating until blended. Press half of dough into prepared pan.
3. Arrange chocolate bars over dough, breaking as needed to fit. Spread with marshmallow creme. Scatter bits of remaining dough over marshmallow; carefully press to form a layer.
4. Bake 30 to 35 minutes or until lightly browned. Cool completely in pan on wire rack. Cut into bars. 16 bars.
Enjoy!